Immigration/Emigration Exhibit to open October 3–monotypes by Blair Folts
 Immigrazione/Emigrazione
 Family roots from Friuli
 Monotypes using paper lithography
3 October-24 October 2014
Sala Liberamente
Maniago (PN) Italia
 Opening reception October 3, 2014  7 PM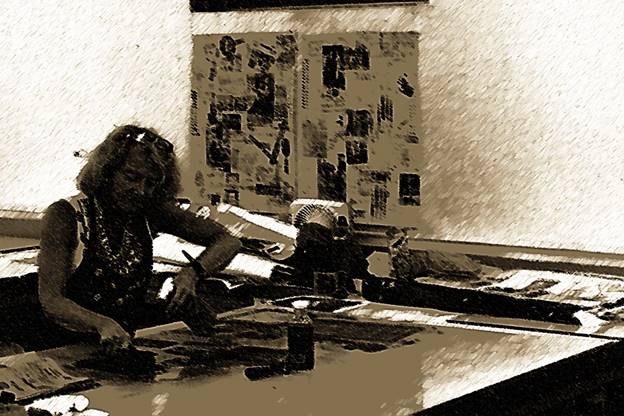 Because I am an American, I feel "rootless sometimes."  My mother is first generation American and her parents both are from Friuli. It is her story that this show is about. (My father grew up in Beijing, China but that is a different story.)
My nonnu was from Poffabro and my nonna was from Casasola. This has always been a magical and special thing for me as an American because it has been here—in Friuli— that I have been able to experience a certain "rooted" feeling despite not having grown up here and despite not speaking the language.
I am excited to exhibit these prints in Friuli this year.  They are created from photos of  this family and also old documents I have found in the attic and old drawers of my grandparents homes.  I want to create a sense that all of these images have been fused onto the walls.  There are pages from school books, deeds from homes, maps, school certificates even little workbooks where my nonnu recorded expenses.  I have layered these with photos from  my own first visit to Friuli when I was only 10 in an attempt to capture the braid of time that is each of our tapestries. Immigration/Emigration is my own search of: " where do we come from and where are we going?"
Da americana mi sento, qualche volta, " senza radici". Mia madre è la prima generazione americana e i suoi genitori sono entrambi friulani.  E questa mostra è una riflessione sulla sua storia.( Mio padre è cresciuto a Beijing, in Cina, ma quella è un'altra storia ancora.)
Mio nonno era di Poffabro e mia nonna di Casasola. Queste paesi  è sempre stato qualcosa di magico e speciale, perché e stato qui in Friuli, che ho potuto fare esperienza delle mie "radici", nonostante non sia cresciuta qui e nonostante non ne parli la lingua.
Sono emozionata all'idea di presentare ora le mie opere in Friuli. Sono nate dalle foto di famiglia e dai documenti che ho trovato nei cassetti e nelle soffitte delle case dei nonni. Voglio dare un senso a tutte queste immagini fuse insieme ed esposte sulle pareti.  Ci sono pagine di libri scolastici, documenti delle case, pagelle di scuola, cartelle su cui mio nonno registrava le spese.  Le ho disposte a strati con le foto della mia prima visita in Friuli, quando avevo solo dieci anni, nel tentativo di catturare la traccia del tempo che è ciascuno dei nostri arazzi.
Immigrazione/Emigrazione è la mia ricerca di " da dove veniamo e dove  stiamo andando."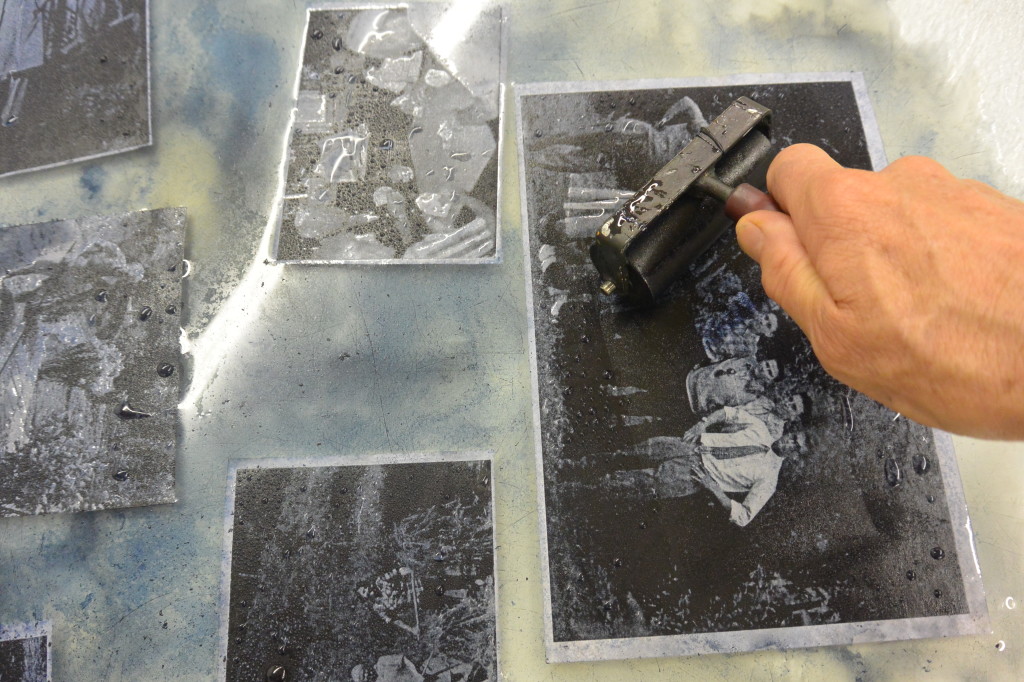 Paper Lithography technique is used to create these monotypes.  Photographs, maps and documents are Xeroxed, reversed, blown up or made smaller before being treated with gum arabic and  ink.  The paper is then laid on top of the images and run through a press.
 La tecnica di carta litografica viene utilizzata per creare questi monotipi.  Fotografie, mappe, documenti vengono copiati, capovolti, ingranditi o rimpiccioliti prima di iniziare il trattamento con gomma arabica ed inchiostro. La carta viene poi stesa sopra le immagini e si mette in una stampatrice.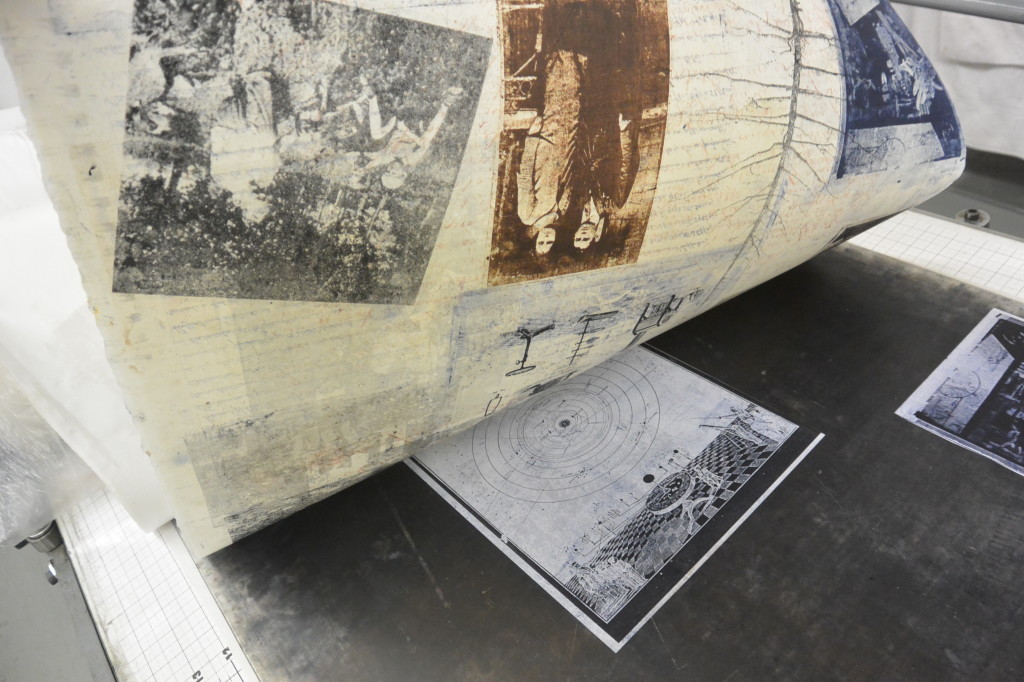 Archival paper is placed over the inked images and then run through a printing press.
La carta per archiviazione  viene posata sopra le immagini inchiostrate per poi passare alla stampa.
These unique prints are each created  by going through the printing press many times.  Blair Folts is a member of the Peregrine Press in Portland, Maine, a collaborative print studio where she creates her monotypes.  She lives in rural New Hampshire in an old farmhouse where she also pursues painting
La stampa finale si ottiene andando più volte sotto la pressa stampante.  Blair Folts è membro del Peregrine Press di Portland, Maine, uno studio in equipe dove ha realizzato i suoi monotipi.  Vive in una zona rurale del New Hampshire, in una vecchia casa colonica dove si dedica anche alla pittura.  (www.peregrinepress.com)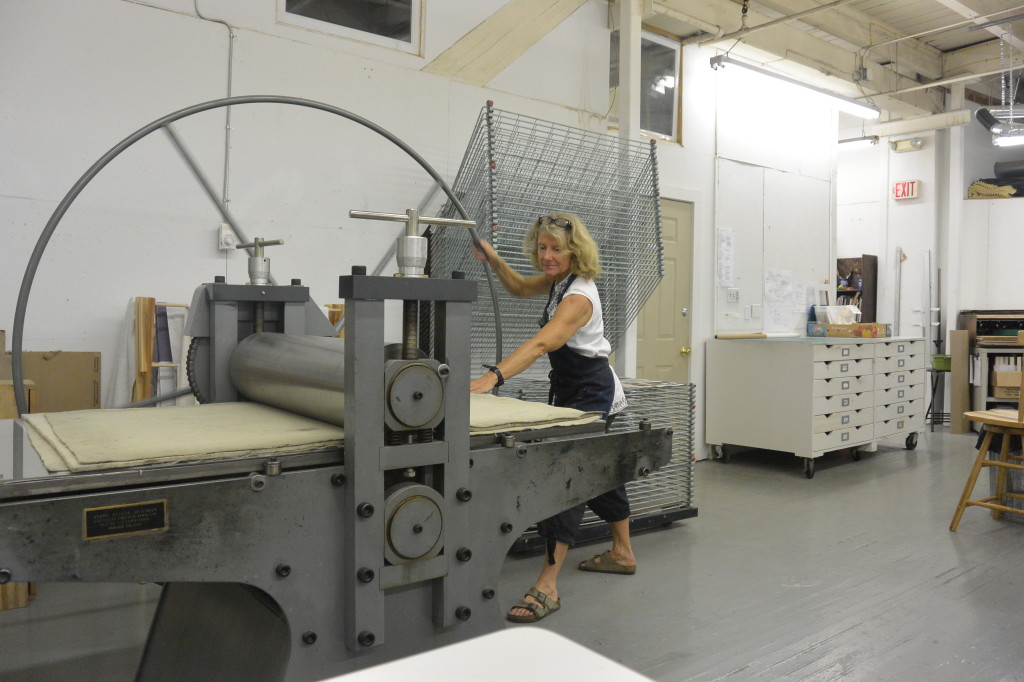 Opening October 3, 2014 Maniago, Italy
WHAT THE BEEKEEPER DIDN'T SAY
GLUP, Poffabro, Italy October 4th-October 11th
OPENING RECEPTION OCTOBER 4, GLUP, POFFABRO, ITALY  5 PM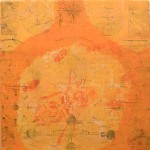 Studio work continues to explore Mongolian landscape and culture………..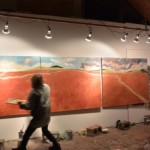 MONGOLIA  2009-2014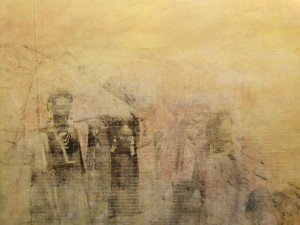 In 2006 and 2009, I traveled into Mongolia from China. Traveling with small sketchbooks, I was able to record the landscape. This process allowed me to continue my search back home in my studio and my quest to understand the landscape where nomads live much as they have for thousands of years. Having grown up with photographs of family who lived and traveled across China and Mongolia from 1920-1949, I felt familiar with the visual landscape and at home with drawing. Attracted to a nomadic way of life where the herders continue to be deeply connected to living in balance with Nature, I felt strangely at home in this vast country and have continued to be inspired.
Art Inspired by Activism
What happened while we weren't paying attention.  2011-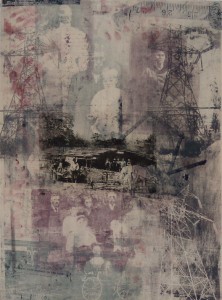 Testifying on behalf of the Green Mountain Conservation Group, against the Northern Pass project, I was inspired by the incredible grassroots movement to stop this proposal.  At one hearing, speakers were given three minutes to address this vast and complex issue. Katie Rose walked up to the podium with her guitar and asked for four minutes. She proceeded to sing her song Live free or die.  I was so moved by her music, the audience and the incredible coming together of the New Hampshire population that an entire new body of art was inspired:  What happened while we were not paying attention. 
Using alternative lithography techniques to create monoprints, I have combined images of the electric towers already in place in Deerfield, New Hampshire (courtesy of Richard Moore) with old photographs and postcards from Effingham (courtesy of Mayor Earl Taylor) with writings from the Cree in northern Quebec where Hydro Quebec dams are located.  I hope that this work will invite the viewer to look more closely into the work and into the layers and contemplate where we are today and "what happened while we were not paying attention."